WOW. Another year. Each one keeps getting better than the next! I have some really big goals for the upcoming year, yet before we move forward… it's always a good idea to reflect.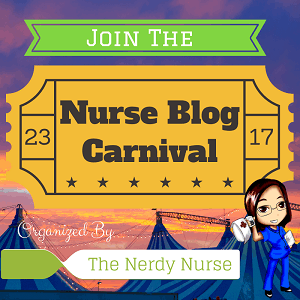 In fact, one of my spiritual teachers often says, 'we can learn so much from standing still, looking behind us and noticing how far we have actually come'. If the future overwhelms you or you're unsure of where your nursing career path will lead you… stop, take a breath and exhale. It's totally OK to be a bit intimidated by the unknown. And then, find joy in reflecting on just how far you've actually come!
So let's do this now together. I hope you enjoy this trip down blog post memory lane… Thanks for continuously reading and sharing my work. You are a HUGE part in making these the:
10. If you desire nurse leaders on your team, sometimes you have to look outside of the box. This video blog features a final tip in a three-part video series on where to find opportunities in nursing leadership.
9. It's no secret nursing staff struggles with burnout. On one hand, we all need to be accountable for our own well-being. On the other, we need nursing administration and leadership support. Here's a post with three tips for nurse leaders to prevent nurse burnout.
8. Dedicated. Proud. Empowered. This uplifting post at the end of Nurse's Week asks you to pick one word that comes to mind when you hear 'nurse'. What's yours?
7. I found an awesome TED Talk on nurse burnout, which is included in this post. Additionally, I offered three additional strategies to help you cope with the stress at work.
6. Yikes this next post received a LOT of discussion. Why is that? It's about nurses going into work… while sick! Have you ever felt pressured to work under the weather? If so, check out this article about a nursing ritual that has to stop.
5. Another touchy subject received a large amount of traffic: the boss. In the past, I have had a difficult time with nursing management, as I am sure many of us had. So how can we handle this challenging relationship? I provided 3 tools to coping with your co-workers.
4. If your nursing colleagues weren't stressful enough, the sheer profession of nursing can cause you overwhelm. How many times have you thought about work- at home? If you need some help, I shared 3 secrets to dealing with stress.
3. Maybe because so many readers were dealing with numbers 4 & 5 above, they wanted help with a nursing career transition. In the third most read post, I gave you 3 ideas to making a shift in your nursing profession.
2. So maybe a new career wasn't for you. In the runner-up post, I described how to thrive in the nursing career you already have. What would you add to this action list of items?
Drum Roll Please…
And the #1 post of 2015 for the Nursing from Within™ blog… an article that describes the Nursing from Within™ process in four simple steps.
Sure, the nursing profession can be stressful and exhausting. Our nursing careers can get us down at times. We deal with difficult personalities, sick and dying patients, and limited resources on a daily basis. While many of these external factors are often outside of our control, there is one thing we can impact.
That's our own thoughts, feelings and perceptions. We can choose how we show up to work. We can decide we are going to enjoy our careers. We can commit ourselves to our goals and do the things we need to move forward. It's all up to us. We have a choice. So, the number one post of 2015 describes the Nursing from Within™ process and invites you to reconnect to the art of this wonderful profession we call nursing.
Happy and Healthy 2016 to you all! Thank you for reading and enjoy your nursing career. 
About the Author: As a keynote speaker, bestselling author and virtual conference host, Elizabeth partners with hospitals, organizations, associations, and nursing groups to help transform the field of nursing from the inside out. During the National Nurse's Week online conference, 'The Art of Nursing', Elizabeth supports nurses in achieving professional goals of continued learning and development. Click here to find out more about how The Art of Nursing appreciates and celebrates our profession in a meaningful way.
This post was written as part of the Nurse Blog Carnival. More posts on this topic can be found at http://nursecode.com. If you are interested in participating find out more details and sign up.