You might get sick of hearing me say this- but it is the foundation of what I do here on this blog. While I never 'wanted' to become a nurse and sort of 'found' my way into it… I now realize that I am a nurse from the inside out. Even though I've never worked on a med-surg unit; I hate blood and feel faint with wounds; and hospitals give me the creeps… I still find myself part of the profession of nursing. And loving it!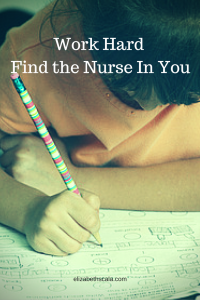 And why is that? Well, I've realized that not every nurse looks the same. Phew! And… an added bonus since there are SO many ways to be a nurse these days. A post I wrote last month of the different types of nurses out there received so much commentary, that I thought I'd expand on that discussion here. Many nurses read that post and commented on even more roles in nursing that they have heard of (and practice).
That's the beauty of being a nurse. You don't have to stay stuck where you're at. You can always evolve, change, and grow. And- if you don't want to work in a particular environment, you can find something new. So here we go…
Nurse Journalist. Starting off with a nurse I look up to and admire. This guy's got it going on. From being a guest speaker on the Art of Nursing 2.0 to interviewing me on his podcast several times, Jamie Davis is a true collaborator. But what's really neat about Jamie? He had a career in journalism first… and then found nursing later in life. In fact, he now has crafted his nursing career in such a way that he blends the two and can refer to himself as nurse journalist. Jamie gets to speak, attend conferences, and interview some really interesting people. He has boatloads of information and resources to share and I highly recommend you check one (or all) of his podcast shows. In fact, check out Jamie's interview on the Your Next Shift podcast to get to know him even more.
Nursing Informatics. Now this is one I hear a lot about but understand nothing about, LOL. I actually had a co-worker when I used to work in psychiatry who was interested in this and found out later that he did graduate with a master's degree in nursing informatics. Way to go! Any-whoo… what is nursing informatics and how does one get into it? This article posted on NurseTogether highlights an interview on a community chat session about nursing informatics. While you can certainly check out that article, a nurse who wants to get into this field better be interested in and know a lot about nursing science, computer science, and information science.
Video Blogging! I think I might have saved the best for last. And I'll share the video format below to show you as well as tell you about this next one. Now I'm not sure what Caroline formally calls herself- but I call her video blogger extraordinaire! Her site is all about helping nursing students and new graduate nurses be the best nurses that they can be. And while she still practices as a nurse, I am highlighting Caroline Porter Thomas as THE nurse video blogger since her channel is huge, her following large, and her videos amazing. Enjoy!
I'd love to hear what I missed. What would you add to the list above? What other roles have you seen nurses do? Share a comment below and thanks for reading!
About the Author: As a speaker, workshop facilitator, and Reiki Master, Elizabeth partners with hospitals, organizations, associations, and nursing groups to help transform the field of nursing from the inside out. As the host of the Your Next Shift Workshop, Elizabeth guides nurses and nursing students to a change in perspective, helping them make the inner shift needed to better maneuver the sometimes challenging realities of being a caregiver.